Submitted by

admin

on Thu, 17/12/2015 - 13:21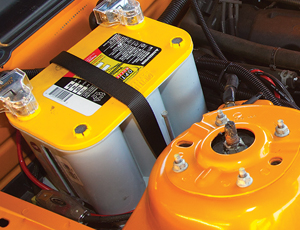 Known around the globe for their high technology and uniquely styled cylindrical battery designs, OPTIMA batteries are highly regarded and thoroughly proven in high performance motorsport, powerboat racing and extreme vehicle and engine applications.
For New Zealand marine applications, installing an OPTIMA Blue high performance AGM battery equals exceptional engine cranking combined with the cycling ability to reliably power on board electronics. OPTIMA Blue also provides outstanding vibration resistance, resilience to rough water impacts and very fast recharge times. This flexible AGM battery is ideal for owners seeking sure starting with every turn of the key and a maintenance free power source.
OPTIMA is the battery of choice for professional Bass anglers in competitive USA tournaments, and OPTIMA Blue provides an ideal upgrade for boats operating trolling motors and power hungry electronics that may drain conventional batteries rapidly. OPTIMA's unique case design, firmly encapsulating a network or spiral wound cells, provides a performance battery that is virtually spill-proof and allows installation into almost any position and angle onboard for assured peace of mind.
All OPTIMA batteries carry a 2 year warranty and are supplied and supported by Battery Town outlets nationwide.