Submitted by

admin

on Thu, 17/12/2015 - 13:20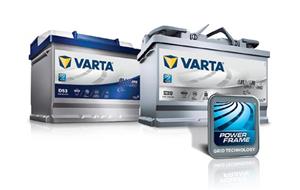 "Acknowledged as the world's most recognised battery brand, Battery Town has introduced VARTA engine starting batteries, trusted by Europe's vehicle manufacturers", commented Battery Town Manager Warrik Skulve, 
"VARTA is a brand of Johnson Controls Power Solutions, (JCI) the world's largest volume producer of batteries for conventional, Start-Stop, hybrid and electric vehicles, and the first company to produce Lithium-ion batteries for mass-production hybrid vehicles. Approximately 1 in every 3 vehicles manufactured around the world today is equipped with a JCI battery."
The VARTA brand has enjoyed a 125 year international history. Today VARTA batteries and associated JCI systems are developed and factory-fitted by major manufacturers. Close collaboration with brands such as Audi, BMW, Ford and Mercedes Benz led JCI to develop VARTA's Silver Dynamic and Blue Dynamic batteries, which meet the power needs of high-performance vehicles and Start/Stop applications.
The downstream advantages of these European OEM partnerships is expertise, technology advances and proven reliability across the entire VARTA battery range. JCI is the driving force behind fuel-saving innovations such as Start/Stop engines and electrical systems. This year, approximately 70% of all newly manufactured vehicles, regardless of car segment and class, are anticipated to include Start/Stop functionality. VARTA's Silver Dynamic and Blue Dynamic batteries use the most advanced technology to support the high energy demands of both advanced and entry-level Start-Stop vehicles.
The performance and reliability benefits of Varta Dynamic automotive batteries, compared to conventional batteries, includes higher cranking capability due to the patented Power Frame grid technology to maximise energy flow and corrosion resistance. Varta batteries also offer OEM quality build levels for an exact fit and finish with outstanding vibration and impact resistance plus ongoing, thoroughly proven reliability and cranking performance across a wide range of highly demanding environmental conditions.
All Varta batteries carry a 2 year warranty and are supplied and supported by Battery Town outlets nationwide.