Submitted by

admin

on Wed, 10/02/2016 - 13:23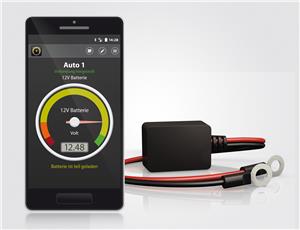 With the Battery Town Battery-Guard and free Apple or Android App, you can now check your vehicles battery's state of charge quickly and easily and hopefully avoid flat batteries and low voltage issues. Only batteries in a constant, positive state of charge will deliver full capacity and reliable operation and prevent possible early damage or premature failure.
After a swift installation of the Battery-Guard Bluetooth transmitter to the battery, and downloading of the Android or Apple app, the real time voltage value can be retrieved. The transmitter is suitable for 6V, 12V or 24V batteries. Bluetooth range is approximately 6 meters.
Powering up the App on your Smartphone opens a tachometer like display indicating various states of charge and a numerical voltage value. Battery-Guard provides brilliantly simple and effective monitoring for your boat, 4WD, car, truck, bike or any vehicle.