Submitted by

admin

on Mon, 07/09/2015 - 12:16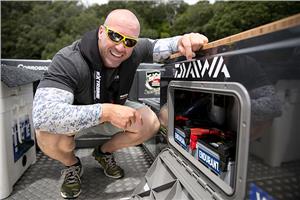 Hella Endurant Batteries and the Battery Town nationwide network of auto electrical businesses is proud to sponsor Milan and Nathan and the Big Angry Fish TV show. Check out the action on TV3 every Sunday at 5pm.
Big Angry Fish is all about teaching the knowledge and techniques to head out on the water and catch trophy fish.
"The idea of creating a TV show was born a cold morning, 3 miles off New Zealand North Cape in the middle of winter. Our plan was to fish the shallow waters over four days, trying to find some massive fish, hiding out in the winterless north", commented Milan.
"Within the first morning, we caught massive snapper, trevally and huge kingfish one after another with several fish over 20lbs, the place was just on fire! That's when we decided to put big angry fish on film. We started up the motor, put our boat back on the trailer and spent the next 9 hours driving home talking about our new business plan."
The dream is now reality and Big Angry Fish is on air. Milan and Nathan know their way around expert fishing gear, great boats and quality equipment, all essential tools of the trade to catch the big ones. Taking a no-compromise approach, the team depend on the power and reliability of Hella Endurant engine starting and deep cycle batteries to get them out on the water, take on a full day's fishing action and return safely home again.
New Zealand's most trusted batteries, Hella Endurant is available through Battery Town auto electricians nationwide. The network provides expertise, product and winning service for all types of battery applications and electrical systems on boats, cars, trucks, bikes, 4x4's, motorhomes and more. Click Big Angry Fish and visit www.batterytown.co.nz for more information and an outlet near you.